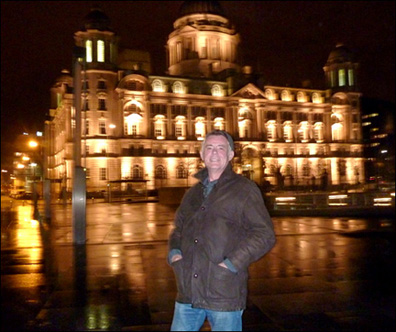 f you have found my award-winning online guide
Chester: a Virtual Stroll Around the Walls
stimulating, you may also be interested in treating yourself to one of my real guided walks
! Join me to wander Chester's world famous City Walls- the most complete
in Britain- and discover the delights of the city they have guarded for 2000 years; see sights and hear stories you'll never find in any guidebook!


Depending upon your requirements, I can give your party a quick introductory tour of Chester city centre or conduct lengthy and detailed study walks upon specific themes, for example, the Roman, Saxon, Norse and medieval roots of Chester, those City Walls and the unique medieval shopping galleries known as The Rows, the great religious foundations, Chester's vanished inns, how an ancient city copes with modern development, 'death, punishment & hauntings'- and many more.
Right: your guide, Steve Howe, on the Pier Head in Liverpool
In the great city of Liverpool, we will visit the two great cathedrals before making our way downhill, through the city centre to the world famous Cavern Club in Matthew Street, on into the historic core of the city around the Town Hall and finally to the waterfront with its fantastic architcture, galleries, museums, restaurants and the cruise ships, ferries and other shipping on the River Mersey. Hear tales of slavery, emigration, urban decine and rebirth and, of course, the Beatles and Merseybeat!
No fair weather guide I, for my walks take place all year round, are easily arranged, friendly, informal and very informative. Tours take place at your own pace and at times to suit you and your party and you may choose to take your lunch / coffee / beer breaks as you see fit - a fine opportunity to visit some of Chester's historic hostelries!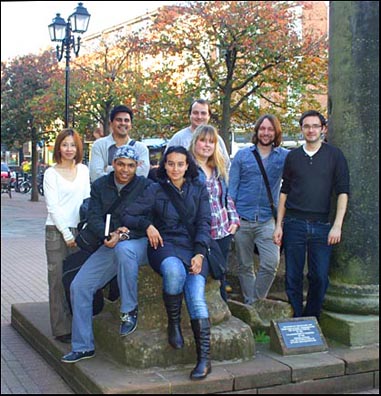 "On behalf of the Historical Fellowship, we wish to thank you for the talk you gave us at the hotel, during which everyone learned a lot about Chester. Also, your walk around the walls was fascinating. We had a very enjoyable weeks' holiday in your lovely city".
Lynda Thomas, the Historical Fellowship of Great Britain, June 2012
Prior committments allowing, I'm happy to accept your booking at very short notice so don't hesitate to give me a ring when you're in town.
Left: These Masters architecture students from Birmingham City University, studying Chester for their dissertation, joined me to explore modern developments in the city.
I welcome enquiries from everyone and of all ages, from schools to pensioners walking groups. If you belong to an arts or photography society or club, you may be interested to know that I offer sketching and photographic guided walks intended just for you. If you're a student, or otherwise newly resident in Chester, my walks are a fine opportunity to get to know your wonderful new home. Chester enjoys a growing reputation as a conference and business centre. Take a break from work and let me show you around- a bit of fresh air and exercise followed by drinks or dinner in one of our historic hostelries can work wonders to sharpen the mind!
"Thank you for the informative and entertaining tour of Chester- the team enjoyed learning more about Chester and I have received some great feedback".
Gareth Ryan, Bank of America, May 2010


How do we book?
Booking your own unforgettable personal guided tour of the beautiful and historic cities of Chester and Liverpool couldn't be simpler! Simply contact me by telephone: 0775 1521 600 / 01244 315399 or by email.

Send me your contact details and the size of your party. Tell me when you're going to be in Chester and where you'll be staying while you're here. If you have any particular interests, I'll always do my very best to incorporate these into your tour.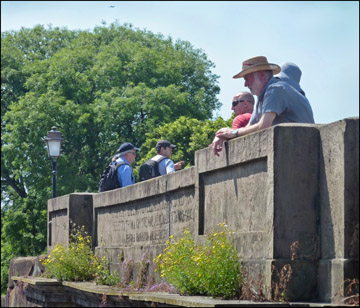 Making a visit to my extensive online guide, 'Chester: a Virtual Stroll Around the Walls' will give you a first introduction to our beautiful city, be a great taster for the wonders to come and may help you decide what you'd most like to see during your time with us.
Right: visitors admiring the view from the top of Chester's Northgate
"Hi Steve - just a note to say thank you for a superb afternoon. It was great to meet you and share your immense knowledge of the history that lies behind the modern Deva and (not just from the perspective of my novel) it was fantastic to be able to tread the steps of the Agricola Tower for the first time, even if it was tinged with sadness and frustration that more people couldn't see and feel one of the few remaining bastions of the city's past.
Please be proud of what you do- your website, the pace, warmth and content of your tours- you deserve to be! Will be in touch soon to rebook part two! Best regards,
Richard Bracegirdle, Chester resident 10/5/15


What does it cost?
For smaller parties- up to ten or so- I request an hourly rate of £30.00 for the group. Larger parties are simply charged on a per-head basis of just £6.50, in both cases payable in advance or on the day, as is most convenient.
I am also happy to deliver informal and entertaining talks about Chester, its past, present and future, at your hotel or elsewhere. Contact me for details.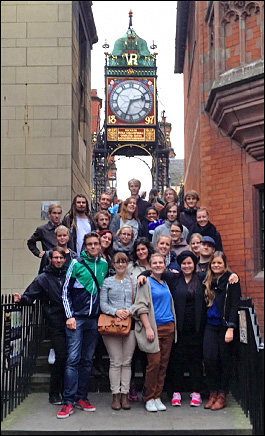 I'm also pleased to be able to offer my services to visitors to our near neighbour, the great city of Liverpool (I've lived in Chester for over twenty years and raised my family here but am a born and raised Liverpudlian!)

"Hi Steve, Hope you are well! Many thanks for a fun and informative tour around Chester for us and our friends. You could not have been more flexible and helpful and made a real bespoke tour to suit our requirements.
The tour was great for all of us, whether having lived in Chester for four years or visitors to the area like our friends.
The tour was delivered with infectious enthusiasm and is definitely something that we will do again with other friends! Many thanks,
Kelly and Graeme Colwyn, July 2010"
Left: these Swedish student teachers joined me to explore Chester in October 2014

"Hi Steve, I just wanted to thank you on behalf of the society for last night's evening of illumination and beer, everyone really enjoyed themselves and are thankfully looking forward to staying with the society.
It was remarked on, on more than one occasion that virtually every building has a tale to tell, thanks for helping to broaden our knowledge of Chester. I will post the details of your web site to the society members. Hope to see you again".
Bill Sheppard, Chester University History Society
"Having myself received training as a guide at a World Heritage site in Kingston, Canada, I was recently privileged to participate in a tour that I would have been proud to have delivered. It was an artful balance of informed historical narrative with humour infused in a charming delivery. Proper pauses were given to appreciate the local ales and culinary offerings, as required.
The guide's choices of pubs and restaurant well suited our group's diverse needs.
We are anxious to return to Chester and share this experience with our friends and family. I am confident each new tour will take on its own unique character as it suits the interests of those who participate".
Caroline & Tom Worthy, Kingston, Ontario, Canada, April 2009
Wondering about accomodation? Talk to me- I'll do my best to sort it out for you. Hoteliers! Let me work with you- tell your guests about my walks and I'll help you in return- get in touch!
Now go on to say hello to some of my happy clients..